Moving to a new home almost always involves a putting together a team of experts. These moving specialists oversee everything from cleaning up, to putting your old place on the market, to helping you find your next home. At Solomon & Sons Relocation, we understand that moving is an intensive group effort. We strive to make the process as easy as possible by helping clients find the additional services they need to complete their relocations.
Preferred Realtors
We've partnered with local realtors to ensure our customers find the best agents to help them with renting apartments, buying homes, and selling their current homes. These preferred realtors are professionals with years of service and multiple recognitions under their belts.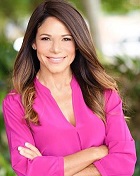 Marlene Goldman is a preferred realtor of Solomon and Sons, specializing in luxury South Florida real estate. Marlene is an associate with Beachfront Realty, Inc., a member of the Institute for Luxury Home Marketing, and a certified Luxury Home Marketing Specialist with the CLHMS.
Having lived in Miami for over 35 years, Marlene is an expert on local culture, architecture, and investment opportunities. Whether you have your eye on a penthouse suite in Downtown Miami or a waterfront homes in exclusive communities like Venetian Island, Marlene will go above and beyond to help you buy or sell your next home.
Her expertise includes:
Luxury properties (including waterfront condos and private communities)
Market values and pricing by neighborhood
Home staging and reconfiguration
Spanish and English language
Get Started with Our Preferred Realtors
If you are interested in working with Solomon & Sons Relocation during your next move or would like an introduction to any of our preferred realtors, contact us right away. Give us a call or fill out our online quote form to get started. You can also contact Marlene Goldman directly at info@marlenegoldman.net.