Moving to a new home almost always involves a putting together a team of experts. These moving specialists oversee everything from cleaning up, to putting your old place on the market, to helping you find your next home. At Solomon & Sons Relocation, we understand that moving is an intensive group effort. We strive to make the process as easy as possible by helping clients find the additional services they need to complete their relocations.
Preferred realtors
We've partnered with local realtors to ensure our customers find the best agents to help them with renting apartments, buying homes, and selling their current homes. These preferred realtors are professionals with years of service and multiple recognitions under their belts.
Meet Leon Damjanovic, a seasoned real estate professional and principal at Polaris Advisors team at Compass, with a passion for unearthing hidden gems for his clients. Fluent in four languages and having lived in various countries, Leon brings a unique blend of cultural diversity and global expertise to his dynamic team of agents, who proudly serve all of South Florida.

Raised in Miami and born in Croatia, Leon has extensive local knowledge and a globally savvy perspective. With a keen eye for trends and potential, he has successfully navigated the real estate market and earned a reputation for being a skilled negotiator who can find the perfect balance between price and value.

As a Miami native, Leon understands the city's allure and takes the time to get to know their clients' needs and aspirations. For sellers, Leon's personalized marketing strategy and eye for staging ensure that their properties sell quickly and at the best price possible.

If you're looking for an experienced, knowledgeable, and committed real estate partner with global expertise and strong leadership, look no further than Leon Damjanovic and his dynamic team at Polaris Advisors.

You can also contact Leon Damjanovic directly at L.Damjanovic@compass.com.​

---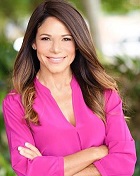 Marlene Goldman is a preferred realtor of Solomon and Sons, specializing in luxury South Florida real estate. Marlene is an associate with Beachfront Realty, Inc., a member of the Institute for Luxury Home Marketing, and a certified Luxury Home Marketing Specialist with the CLHMS.
Having lived in Miami for over 35 years, Marlene is an expert on local culture, architecture, and investment opportunities. Whether you have your eye on a penthouse suite in Downtown Miami or a waterfront homes in exclusive communities like Venetian Island, Marlene will go above and beyond to help you buy or sell your next home.
Her expertise includes:
Luxury properties (including waterfront condos and private communities)
Market values and pricing by neighborhood
Home staging and reconfiguration
Spanish and English language
You can also contact Marlene Goldman directly at info@marlenegoldman.net.
---
Ashley Cusack is a top-producing broker whose expertise of the Miami luxury real estate market and commitment to her clients has consistently placed her in the highest tier of realtors, earning her recognition as one of Miami's leading agents and ranked in the top 1/2 of 1% nationwide. Selling nearly $1 billion over her 26-year career, Ashley and her team are the experts you need when navigating the Miami luxury real estate market.
Ashley brings a lot to the table:
Miami and SE Florida market expert
Best in market luxury real estate agent
Full team to support you as you search for your next home
---
Natalie Mor
With extensive professional experience as a Real Estate Investor and Real Estate Broker Associate for over 10 years, Natalie Mor has honed her skills as a knowledgeable advisor and strong negotiator throughout the sales process. Successfully selling properties in the tri-county area, she makes Cooper City her full tome home. Natalie is also a member of the Cooper City Business Advisory Board . She has lived in multiple cities throughout Broward County in the past 30 years, which has given her a unique understanding of the development of South Florida.
Detailed, focused and high-achieving, Natalie attributes her motivation and accomplishments to her strong roots in the community and is well connected and respected. Her business is based on more than 80 percent referrals from satisfied clients. She prides herself in providing top notch service to her buyers and sellers, which results in her earning their trust, repeat business, and referrals. With over 200 closed sales to date, she has sold homes in all price ranges from $100,000-$3,000,000.
Clients appreciate her honesty and dedication above all, along with her flexibility, low pressure sales, patience, ability to listen and hear what a client wants, negotiation and analytic skills, and her ability to accurately price and market a home.
On her spare time, you can find her trying new recipes and spending time with her family. She also enjoys traveling and is fluent in both English and Hebrew.
---
Get Started with Our Preferred Realtors
If you are interested in working with Solomon & Sons Relocation during your next move or would like an introduction to any of our preferred realtors, contact us right away. Give us a call or fill out our online quote form to get started.