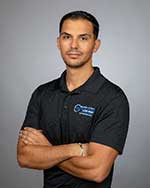 Roy Cohen
President and Owner
Roy has spent the majority of his life in the South Florida community after moving to Hollywood, Florida at a young age when his family lost everything in a California earthquake.
Since Solomon & Sons' establishment in 2014, Roy has been driven by a simple vision, "Take care of the customer, and your employees and the business will take care of itself." This motto has lead the company down the path of success from a local South Florida moving company to an international operation.
Solomon & Sons is a growing success, having received many awards and accreditations ranging from Pro mover certifications by the American Trucking Associations' Moving & Storage Conference to being recognized as South Florida's most reliable moving service by the local community.
Roy's passion project has been transforming the negative reputation of the moving industry. Roy is exceptionally well-respected in the moving industry and well-acknowledged by his company's reputation around the country for an unparalleled professional track record of high ethical standards and an honest and punctual business.
Roy Cohen credits the success of the business to his dedicated staff members and the commitment and dedication from his business partner Monica Hoffman.
---
Monica Hoffman
Vice President and Owner
After leaving the corporate sector in 2016, Monica decided to take on a new challenge and partnered with her childhood best friend Roy Cohen in the moving & storage industry. She adapted into the company quickly, implementing new guidelines and strategies for a client-centered approach to improve on providing the highest level of quality and care. In her time with Solomon & Sons, she has brought immense value to the company and its staff.
Through her strategic leadership, Monica has established herself as a well-respected female leader in the industry. Her passion project is continuing education and continuous re-training to raise the bar higher and higher. Monica earned a Business finance degree from the Florida International University in Miami and maintains the active pursuit for her MBA.
Monica prioritizes educating the consumer during each stage of the relocation process. She also oversees the development of long term relationships with many corporate and residential customers. She is praised for her excellence in detail and customer care.